Freightwaves Magazine received our press release and reached out for an interview, resulting in this great story for B.I.G. Logistics! 
"Borderlands: Xcell Logistics sees big opportunities with cross-border trade"

Great coverage from DC Velocity about B.I.G. Logistics'acquisition of Xcell Logistics companies
"Texas-based 3PL expands cross-border business with purchase of Mexico City-based 3PL and customs broker."

More coverage below:
Zach Person, Founder of Borderless Business Solutions, says that while the financial pundits are taking a sky-is-falling narrative, the United States is currently the largest, most stable and accessible market on the planet. 

Big news from Alba Wheels Up: 
Alba Wheels Up Acquires San Francisco Broker KSI reported in International Trade Today
The Daily Herald Recognizes a good organization when it hears about one! 
Business for a Better World: Well Child Center
November 18, 2022

Well Child Center celebrates 50 years of service with new logo, events, contests and fundraisers
September 27, 2022
BUSRide Magazine was one of many outlets that picked up on our client's BIG news about rebranding, plus new tech and service expansion.
GO Airport Shuttle rebrands as GOWithUs.com with new website, services and locations
By: Richard Tackett
March 22, 2022
"GO Airport Shuttle has launched a new website, GOWithUs.com to announce its expansion into a comprehensive travel company providing services beyond airport transportation.
The site features a new streamlined reservation system for faster, easier booking and discounts to tours and attractions in popular tourist cities."
The Daily Herald picked up our story about the epic father/son road trip to pick up this custom 1930's era Prinzing hearse in Arkansas and drive it back to Northbrook, Ill!
Constable: 'Magical' hearse also brings together the living
By Bruce Constable
March 6, 2022
"Typically, a ride in a hearse is a once-in-a-post-lifetime event. A tricked-out hearse modeled after a 1930s Rolls-Royce was the vehicle of choice for Lloyd Mandel and his father, Seymour Mandel, on their road trip from Arkansas to Northbrook."
Photo credit: John Starks
Reporter Susan Woods, Welding Productivity Magazine, stopped by the TIG Brush booth at FABTECH to interview company co-founder Clive White live-streaming from Sydney, Australia. 
Brushing Clean
A weld cleaning system for stainless steel replaces outdated, two-step weld cleaning processes
By: Susan Woods
December, 2021.
Heartwarming story about our client Mitzvah Memorial Funerals in the Chicago Tribune!
Father and son take road trip to bring custom vintage style hearse back home
"As soon as Lloyd Mandel spotted the 1930s style custom Prinzing hearse at a National Funeral Directors Association convention in Chicago in 2019, the owner of Northbrook-based Mitzvah Memorial Funerals was fascinated by it."
TIG Brush Cleans up at FABTECH – part 2!
The team at Gorrila Marketing told us that TIG Brush executed the "best use of innovation" for its interactive booth at the show. This resulted in the following podcast:
How to Innovate the Tired Trade Show Booth w/ Clive White & Zach Person
Podcast: The Manufacturing Executive with Joe Sullivan, Thinker and Founder, Gorilla 76 Marketing.
"At the outset of the pandemic, trade shows were one of the many facets of business imperiled by the crisis.
But every crisis presents an opportunity for innovation.
And for today's guests, Clive White, CEO, and Zach Person, General Manager, at Ensitech, a company that heavily relies on trade shows for garnering business, pushing past the initial pandemic panic ultimately paid off — fast forward to today, and they've revolutionized the trade show booth."
Look who landed the cover story on Stainless Steel World Magazine!
"The success of Ensitech's unique weld cleaning system, the TIG Brush, is growing in the international market, with distributors selling the ground breaking technology across Europe and the United States. Headquartered in  Australia, Ensitech's global operations are powering ahead, and in the US, its success is driven by a steadily growing team of experts in the Chicago office."
By: Joanne McIntyre

TIG Brush cleaned up at FABTECH and people noticed! One marketing team said the company's exhibit was the "best use of innovation." The company exceeded it lead goals and was almost overwhelmed with new customers and sales!
Its success led to podcasts and speaking gigs like this one:

New client TIG Brush will be at FABTECH debuting its hybrid booth! 
TIG Brush to Debut Livestream Demonstrations at FABTECH via Hybrid Exhibit
AURORA, Ill. (Aug. 24, 2021) –   TIG Brush™, the award-winning, stainless steel weld finishing system powered by Ensitech, will showcase its capabilities at FABTECH in Chicago via innovative, interactive live streamed demonstrations broadcast onto a large screen direct from its studios in Aurora, Ill, its North American office.
FABTECH is being held in Chicago September 13 – 16, 2021. TIG Brush will be exhibiting at booth B20008 with company experts both onsite, including General Manager Zach Person, and offsite via livestream from its US Office studio to answer questions and manage the demos.
According to FABTECH representatives, TIG Brush is the only exhibitor to offer both on-site and livestream product demonstrations.
The TIG Brush and the proprietary fluids developed by Ensitech provide maximum weld cleaning and passivating speed and efficiency, delivering a solution that is simple to use and can radically improve and/or replace outdated and/or dangerous weld cleaning processes in the metal fabrication industry. The demonstrations will convey the full range of cost saving benefits and technological advances the TIG Brush system brings to the table.
In addition to highlighting the speed, efficacy and value of the product line, the studio broadcasts will show distributors and end users how effective it is to host a live demonstration at their facility.
"Imagine the best how-to YouTube video you've ever seen.  Now imagine that it's real-time, talking with a product expert.  The goal is to provide the best information – where and when the customer needs it – to make a good business decision about incorporating a TIG Brush machine into their production process." Says Person.
For FABTECH, TIG Brush has created a 10' x 20' booth in which demonstrators will interact with the audience in real time with the ability to add other parties as necessary. The booth also will have cordoned off sections for interactive Zoom capabilities for one-on-one group sessions.  The TIG Brush system will be available at the booth for attendees to safely try out while interacting with the virtual presenter.
For those who are unable to attend the expo, or who seek an alternative way to observe TIG Brush in use, the company will offer a QR code to schedule their own virtual demo at a time that works best for them.
"This hybrid presence at the show, with a combination of on-site team members, products which can be handled by attendees, and the live-feed demonstrations are the best ways to showcase our products, service, support and training capabilities.  This also applies to anyone who is not able to make it to the show.  We just send them a link and they can Zoom into the booth wherever they are in the world", adds Person.
Ensitech is the inventor and manufacturer of the TIG Brush Stainless Steel Weld Cleaning System, and a global leader in metal surface finishing.  Combining expertise in electrical engineering, chemistry, product design, innovation and service, Ensitech products provide the industry with a safe, efficient alternative to outmoded methods and hazardous materials. For more information, visit TIGBrush.com.

The Chicago Tribune interviewed GO Group President John McCarthy about the impact of COVID-19 on the meeting and convention business in Chicago and on GO member GO Airport Express. 
Chicago's convention and tourism workers are feeling the ripple effect of events canceled because of the coronavirus
By: Abdel Jimenez
"Go Airport Express averages around 30,000 passengers a month, and business typically picks up in March as conventions and trade shows come to Chicago, McCarthy said. The company has 70 drivers who work in its shuttle service to airports, hotels and convention centers.
'I have a lot of hope. I hope people are calm and come to Chicago," McCarthy said. "It's a safe place.'"
Veranda Recommends HydroTap for "Game Changing H20"
12 Household Appliance Trends for 2020 and Beyond
"With these high-tech must-haves, you'll cook smarter, clean faster, and breathe easier."
"Wellness, whispers of the Far East, and the "high-teching" of our daily routines: these were some of the biggest, brightest trends at this year's Kitchen & Bath Industry Show (KBIS) in Las Vegas, guiding the latest innovations in everything from faucets to refrigerators, laundry to luxury ranges.
In keeping with the biggest innovation news of 2020, the net gain of the Hydrotap system by Zip is wellness.
The 70-year-old Aussie-based company says their clients around the world report drinking more water on a more consistent basis, with the innovative system, which delivers filtered chilled, boiling, and sparkling water from the same tap.
The filtering system removes lead, bacteria, and other harmful toxins, all from a system that fits under the sink. Though the stystem has been around for a few years, it's relatively new to the U.S."
Read the full article here: Veranda
Real Etate Journals Media Group and Connect Media both picked upthe release of new director at Element78
Jan 24, 2020 –  Illinois Real Estate Journal
Jan. 30, 2020  – Connect Media

About Element78
Drawing on decades of experience, Element78 delivers a unique and invaluable perspective to its clients. From acquisition through integration and exit readiness, Element78 offers solutions throughout the investment lifecycle, acting as the change agents its clients need to move companies forward through transactions, transitions, and transformations. It brings high-touch professionals who are passionate about working with clients in challenging but rewarding environments. Element78 was recently included in Consulting Magazine's 2019 list of Fastest Growing Firms and was ranked No. 355 among Inc. Magazine's 2019 annual Inc. 5000 list which ranks the nation's fastest-growing private companies
Gary Modrow interviewed by Enterprise Podcast Network
Listen to Element78's Managing Director and Chief Growth Officer, Gary Modrow, talk about managing the rapid growth of Element78 and his advice for other growth-driven entrepreneurs.
January, 17, 2020
Host Eric Dye & guest Gary Modrow discuss the following:
Your company is young and has already won awards and been recognized as one of Consultant Magazine's fastest growing businesses. To what do you attribute this rapid growth?
What are the biggest challenges to such rapid growth and how are you managing it?
How are you managing such rapid growth without negatively affecting customer service?
How are you able to keep up with staffing demands? How do you ensure your employees are a good fit for your company and clients?
You and many of your leadership team came from large companies – what are the challenges in moving from a large company to a smaller, entrepreneurial one?
How did you decide to make the leap from the perceived safety of a larger firm to a start-up?
Entrepreneurial minds tend to have strong opinions – how do you and your team work together effectively?
What advice do you have for people wanting to make the leap from large corporate jobs to entrepreneurship?
Click here to hear the interview now: 
Element78 Acquires Trillium Solutions Group, Enhancing Executive Search and Expanding Advisory Practice to Technology Consulting Capabilities
CHICAGO, Jan. 22, 2020  — Element78, a nationally-recognized advisory firm specializing in accounting, finance and operations, announced today its acquisition of Trillium Solutions Group ("Trillium" or "TSG"), a leading technology consulting and strategic sourcing firm.
Go Airport Shuttle Takes Over as Largest  Airport Transportation Provider  
The Company Offers Shared Rides and Other Services to More than 85 Airports Worldwide
CHICAGO (Dec. 19, 2019) — In response to last week's announcement that SuperShuttle and ExecuCar will be shutting down all services as of December 31, 2019, GO Airport Shuttle, a ground transportation company serving 85 airports worldwide, wants travelers to know that they can book shared rides, private cars and sedans, SUVs and charters through GO and its affiliates in many of SuperShuttle's locations.
GO Airport Shuttle, under the name of The GO Group, LLC. was founded in 2007 as a consortium of independent airport shuttle transportation providers and has grown to be one of the leading companies in the industry.  When SuperShuttle ceases operations, GO Airport Shuttle will become the largest national system for airport transportation.
The company provides safe, reliable and economical shared and private rides to and from the airports from homes, businesses, residences, hotels and other locations.  Passengers are legally picked up and dropped off at airports curbside, for maximum safety and convenience.
All GO drivers are professionally trained, vetted and certified by their local departments of transportation to ensure customer safety.  Drivers are experienced and knowledgeable about their designated cities and  have access to technology and dispatchers enabling them to avoid traffic and construction issues to ensure passengers arrive to their destinations on time.  Many vehicles are equipped with cameras to record rides and any traffic-related incidents.
"We are certainly saddened by the loss of such an upstanding company as SuperShuttle," says John McCarthy, president of The GO Group.  "We have contacted all our members to let them prepare for the expected increase in bookings once Super Shuttle ceases operations to ensure travelers continue to have a safe and reliable airport transportation option."
The GO Group, LLC is the nation's largest airport transportation provider, offering shared rides, private vehicles, SUVs, limos, charters and tours, serving some 85 airports in the United States, Canada, Mexico, the Caribbean, Australia and Europe and transporting more than 13 million passengers per year. Travelers can book through GO's website, www.goairportshuttle.com.
AirportXNews picked up client GO Groups's press release providing survey results about how people spend thier time at the airport: 
Number of People Reading at Airport Falls: Study Shows
by David Ward | Oct 1, 2019
The number of travelers who spend their dwell time reading in airports has dropped, a new study from ground transportation provider The GO Group has found, though it remains the most popular for passengers awaiting a flight.

Client Chicago Trolley & Double Decker Co announce new tours and deals for summer 2019!
Chicago Trolley & Double Decker Co. announces the debut of the Deluxe Motor Coach Tour and the Land, Lake, River and Sky Tour plus new "buy one day get the second one free" package deals on its Downtown Hop On Hop Off  and other tours.

Client Leon Walker was interviewed and his company, DL3 Realty's  projects and committment to investing in underserved communities is covered in this Chicago Tribune article.  
Obama Presidential Center or not, Woodlawn works on its comeback
By Corilyn Shropshire
"Earlier this month, an airy new Jewel-Osco at 61st Street and Cottage Grove Avenue in Chicago's Woodlawn neighborhood was bustling with shoppers and employees."

The new Jewel-Osco store at the intersection of 61st Street and South Cottage Grove Avenue in Chicago on March 27, 2019. (Zbigniew Bzdak/Chicago Tribune)
Client DL3's Englewood Square development was cited as a positive example in this Crain's Chicago Business story about the new mayor's committment to investing in Chicago's underserved communities. 
Why Chicago's mission-driven developers have a spring in their step
"They've got political wind at their backs as a new City Hall administration pushes investment beyond downtown."
By: Danny Ecker
Clients Leon Walker, DL3 Realty and Collete English Dixon, Marshall Bennett Institute of Real Estate are both quoted in this article about outgoing Mayor Rahm Emanuel's track record on real estate development.  DL3's Englewood Square is noted as a success story.
Mayor Rahm Emanuel's legacy: Neighborhoods didn't flourish the way downtown did
"Mayor Rahm Emanuel uttered those words last August before announcing he wouldn't run for a third term. Perhaps unwittingly he was drafting his closing argument for history."

This article in national outlet NextCity profiles Leon Walker as part of The Bottom Line, a series exploring scalable solutions for problems related to affordability, inclusive economic growth and access to capital. 
How More Black Commercial Developers Could Change Chicago
By Senior Correspondent Oscar Perry Abello
"Leon Walker is on a roll. Neighborhood Housing Services Chicago awarded him its 2019 Community Impact Award for addressing food deserts. The new Jewel-Osco location he co-developed in the Woodlawn neighborhood on the South Side opened its doors on March 7. On the heels of that, the Cook County Land Bank Authority selected Walker's firm, DL3 Realty, to co-develop the site of the old Washington Park National Bank building, just a couple blocks down the street."

HydroTap is making a big splash in US media!  Here are two articles in Architect Magazine! 
HydroTap Celsius All-in-One by Zip Water
"This single faucet grants users instant filtered boiling, chilled, and sparkling drinking water, or unfiltered hot and cold water."
By Ayda Ayoubi
Design Trends: Six Bold Ideas for the Modern Multipurpose Kitchen
"Smart, eclectic, and multifunctional kitchens are permeating residential design this year."
By Ayda Ayoubi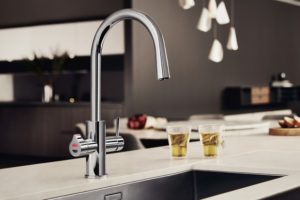 Products Magazine was one of the many media outlets that stopped by the HydroTap by Zip Water US booth at Greenbuild Chicago 2101. HydroTap was picked as one of their top 10 favorites for sustainability.
10 SUSTAINABLE PRODUCTS WE FOUND AT GREENBUILD 2018
"
Greenbuild
, the largest annual conference and expo for sustainable construction, set up shop in Chicago this year, where we found 10 products that are pushing the envelope for innovation and efficiency.
The show, which took place November 14-16 at Chicago's McCormick Place, drew thousands of builders, architects, designers, and leaders working in the green building space. Presented by the U.S. Green Building Council (USGBC), the show included several updates to the LEED system, including a new certification process for buildings with net zero carbon emissions or net zero energy, water, or waste use.
The 2018 theme, Human x Nature, represented "how the green building movement embraces all of humanity by making sustainable buildings and environments accessible to everyone while benefiting the natural environment all around us," USGBC says.
Greenbuild also offers building tours, immersive summits, awards programs, and scores of education sessions for professionals, but the draw for us, as always, was the show floor, where exhibitors showed off their best and brightest innovations in the green space. Here are 10 offerings that caught our attention:"

Connect Media Chicago wrote about the work of Marshall Bennett Institute of Real Estate students, who help companies develop real estate plans. 
Marshall Bennett Students Devise Real-World Action Plans
December 19, 2018
"Family-run real estate companies and large, established property firms alike often struggle with finding time to develop comprehensive management plans. Enter graduate students at Roosevelt University's Marshall Bennett Institute of Real Estate, who annually select two to three companies as clients and complete a comprehensive real estate management plan for each."
Wind Systems Magazine interviewed two industry experts for this article about high performance computing and wind energy.  Client is the The SC18 (the international conference for high performance computing, networking, storage, and analysis) which will be in Dallas, Texas, November 11-16, 2018.
Increasing AEP: A coordinated approach

Consumer Affairs picked up GO Group's survey results: 
How much should you get for giving up your airline seat?
Survey finds business travelers generally expect more than leisure travelers
The summer travel season often means jammed airport terminals and oversold flights. When that happens, you might be asked to give up your seat and take a later flight.
Should you, and how much compensation from the airline should you expect?
Last year, United Airlines was the unwelcome focus of attention after a passenger, Dr. David Dao, was dragged off a flight after declining to give up his seat so that an airline employee could take his place.  United, along with other airlines, immediately implemented changes in how they handle overbooked situations, in some cases increasing the incentives for booked passengers to voluntarily take a later flight.
The GO Group surveyed a representative sample of air travelers to learn what consumers think they should get for accepting a bump. The opinions are widely divergent.
Read the full story here: https://www.consumeraffairs.com/news/how-much-should-you-get-for-giving-up-your-airline-seat-061918.html

Shuttle Provider Gets Award For FEMA Hurricane Service
Luxury Coach and Transportation Magazine picked up our great story about GO Puerto Rico member receiving an award from DHS for its work with FEMA after hurricane Maria.
Read more here: https://www.lctmag.com/news/729757/shuttle-provider-gets-award-for-fema-hurricane-service
Client Aerex is a source in this article about pesky garden bugs!
Watch this podcast interview with Leon Walker, DL3 Realty and the importance of his work in Venture Development.
DL3 Realty, one of Chicago's most active community developers
GO Group's survey is picked up in Transportation Today News.
GO Group predicts increase in travel in 2018.
Collete English Dixon, the Marshall Bennett Institute of Real Estate, is interview by Bisnow National edition.
Beyond The Bio: Bisnow's 16 Questions With Real Estate Vet Collete English Dixon
Chicago Tribune feature reporter Rick Kogan writes a delightful article about map expert Sammy Berk, founder of the Chicago International Map Fair.
Looking for Treasure? Find it in a Map
Chicago's Awful Divide
This is a great in-depth article about Chicago and the challenges for people living in under-served neighborhoods. Client Leon Walker, DL3 Realty, was interviewed regarding his work on the Whole-Foods anchored Englewood Square development.
https://www.theatlantic.com/business/archive/2018/03/chicago-segregation-poverty/556649/ 
New Discussion Paper on Venture Development Released by DL3 Capital
CHICAGO (Nov. 2, 2017) – Leon I. Walker, managing partner, DL3 Capital, has released a discussion paper designed to share his experiences in an emerging field of real estate development that he calls "Venture Development." The document, titled, "Venture Development: an Opportunity for Private Investors to Drive Concordant Change in the American Inner City," is available for review at http://www.dl3realty.com/venturedevelopment.
Venture Development is a modern, sustainable economic development strategy through which equity investors can pursue a positive holistic change in urban neighborhoods, while earning competitive risk-adjusted financial returns.
DL3 has successfully implemented this practice by developing real estate projects that have helped revitalize Chicago's urban communities. Its projects are more than just bricks and mortar. They are designed to provide an economic stimulus that ultimately lifts economic prospects and quality-of-life for local residents.
Travelers Prefer to Pick and Choose Hotel Services according to GO Group Survey
CHICAGO (Feb . 02, 2018) – Sixty-six percent of GO Group survey respondents said they would prefer to pick and choose hotel services and pay accordingly rather than have one bundled price with charges for services not used.
The GO Group LLC, an international ground transportation provider, conducted the survey and more than 150 people responded.
Of the 34% of participants who said they preferred one price, several commented they chose this option only if all rates and fees were provided at booking and not at check out.
DL3 Realty Breaks Ground for Woodlawn's New Jewel-Osco
Development will Eliminate a Known Food Desert
CHICAGO (March 8, 2018) – On March 7, Leon Walker, managing partner, DL3 Realty broke ground along with Mayor Rahm Emanuel and community leaders at 61st Street and Cottage Grove where a new Jewel-Osco will be developed.
The project, a joint venture of DL3 Realty and Terraco Real Estate Development and Management, is a 48,000 square-foot development located in Woodlawn, an emerging community that is home to the University of Chicago's South Campus and just minutes from the future Obama Presidential Center. The full-service grocery store and drive-through pharmacy will eliminate a food desert, bringing high-quality fresh food options and more than 200 jobs to the Woodlawn community. The store is expected to open in early 2019.
The Preservation of Affordable Housing Chicago, (POAH) sold the site to DL3 Realty and Terraco last year for $2M. It is the last parcel of undeveloped land from the former Grove Parc public housing projects.
Chicago Finance Exchange member is a source in this Crain's Chicago Business article.  These Stock Pickers Continue to Outsmart the Indexes/
Middle Market Growth Magazine publishes a bylined article for Avenue.  Brand-Driven Approach Accelerates Post-Merger Acceleration
ABF Journal, cover story, bylined by Chicago Chapter of the Turnaround Management Association members.
 Preserving the Jewel in a Swine's Snout: Inside the Award-Winning AgFeed Industries TurnaroundAnd here!
This is just a partial list of our news content. If you'd like to see more examples of our work, please contact me